Horseback ride "Barbagia 360°"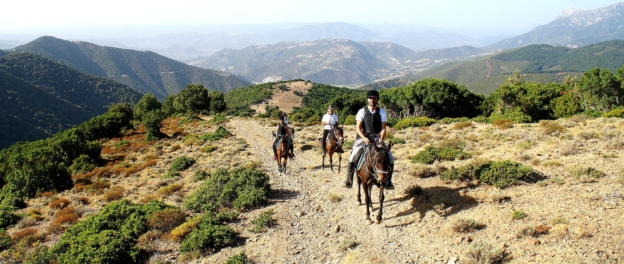 Horse riding tour in Orgosolo – "Barbagia 360°"
16 km
3 hours of horse riding
Intensive horseback riding tour on the plateau Pradu for experienced riders.
The horse ride begins with the crossing of a small part of the town, then we enter in and take an old forest road, very scenic, where you can feel the true freedom and oneness with nature, feeling of being away from civilization. You can admire the beauty of the ancient forests of oak, pinnacles and ravines, nuragical villages and the Domus de Janas (home of the fairies) in the area Sirilò, evidence of human presence in these places since ancient times.
Along the way, we will visit three lakes: Steheò, S'Ingardu and Lake Olof. At the pond Steheò will definitely be possible to see herds of wild boar and feral horses.
In Ventosu locations, where there is a picnic area, we will pause to enjoy a picnic lunch and then resume the tour in the direction of Lohana, where a plateau in the spring you can see that with an abundant flowering asphodel its white color makes the enchanted landscape; then continue towards Lake Olof again to admire a wonderful view. 'This variability of landscapes that makes this tour a memorable one. From this point we go back along different stages: Racecourse town, tourist center – Camping, where we will make a short stop for a drink.
Time table:
Annualy a daily, in the morning and in the evening
Riding hours:
3 hours on a horseback
Lenth
16 km
Departure from:
Orgosolo (NU)
Transfer to Orgosolo
Shuttle service to Orgosolo can be provided at extra cost
Accompaniment, language:
the excursion must be accompanied by two guides instructors
Languages: Italian, English and Russian
Number of riders:
Groups 1-8 persons
Clothing:
For those who do not have special clothing for riding, must be dressed in long pants, which does not restrict movement. The shoes must be closed with no heel or heel that does not exceed 2-3 cm. The kep should be released from the club.
Esperience level:
Amateurs riders and Experienced riders
Horses:
Sardinian mountain horses of pony-class. No using stallions.
Pace:
Pace, trot, gallop
Accoutrements:
English saddles, sport bridles
Price of the excursion
80 EUR per person
Price includes
Rent a horse and accoutrements
Accompaniment by professional guides
Price doesn't include
---