Horse riding excursion "Nuraghe Mereu"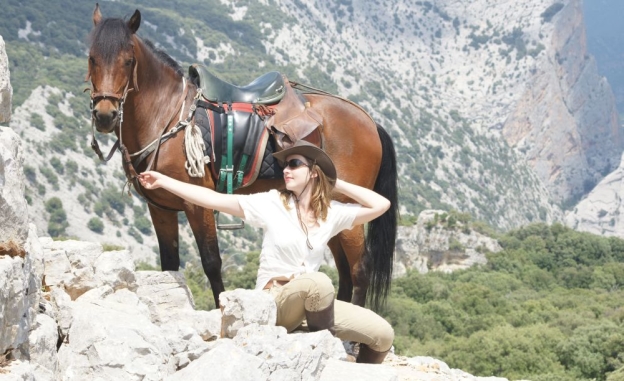 Riding excursion to Nuraghe Mereu
38 km, 6-8 hours ride
For those who wish to discover the center of the island, remote from elite beaches and discover the ancient land full of mysteries, secrets and legends offer horse riding excursion to Nuraghe Mereu.
The excursion takes place in 15 km from Orgosolo, a town famous for its murals. Starting point – Caserma Montes in Funtana Bona.
It starts with a dirt road leading to Funtana Bona source from the waters that flow from good and fresh limestone of Monte Fumai. Going to Monte Novu San Giovanni arrive at a fold called Su Vadu d'Henis, inhabited since ancient times by shepherds and goatherds. From there you go to visit a giant old oak where the trunk is embedded in a huge boulder. Quest 'tree is much visited by tourists and received the name "Sa Helihe de Tureddu."
After we get to one pinnetta called "Sa Senipide", which was once the house inhabited by shepherds and goatherds, and now has become a tourist haven.
After passing through a field of juniper "Su Mudelhu," we enter the forest of "Sar Vaddes" to see the famous abyss Su Disterru, 250 m deep.
In the forest of "Sar Vaddes" We will break for a picnic lunch with local produce home-made cheese, ham, sausage and bread, wine and water.
After lunch following a path traced by the cows come to the nuraghe Mereu
from here you can enjoy an amazing view of the top of the Supramonte. Our view extends all 'round dominating the forest Sar Vaddes, until the' grand canyon Gorroppu and the nuraghe of the same name.
The nuraghe Mereu was built about 3500 years ago, made entirely of blocks of white limestone is a nuraghe-type complex with a central tower and two side towers protected a megalithic wall.
On the way back we pass through a puddle of water in the natural limestone mountain where many wild animals come to drink. On our way we meet many mountain animals: wild boar, mouflon and wild goats.
Given the peculiarities of the landscape, the history and the richness of biodiversity of these sites are visited each year by thousands of tourists.
The horseback riding let you get to know these wonderful landscapes, in the spring you can see different species of plants in bloom, including the pink peony.
In return we expect a toast with generous vine Cannonau from Orgosolo.
Time table:
Annualy a daily
Riding hours:
6-8 hours on a horseback
Lenth
38 km
Departure:
Caserma Montes in Funtana Bona, 15 km from Orgosolo (NU)
Accompaniment, language:
the excursion must be accompanied by two guides instructors
Languages: Italian, English and Russian
Number of riders:
Groups 1-8 persons
Clothing:
For those who do not have special clothing for riding, must be dressed in long pants, which does not restrict movement. The shoes must be closed with no heel or heel that does not exceed 2-3 cm. The kep should be released from the club.
Esperience level:
Professional riders
Horses:
Sardinian horse of pony-class, Sardinian anglo-arabians. No using stallions.
Pace:
Pace, trot, gallop
Accoutrements:
English saddles, endurance saddles, sport bridles, morso sardo
Price of the excursion
Group 1-8 persons one day trip
180 EUR
Group 1-8 persons two days trip
340 EUR
Price includes
Rent a horse and accoutrements
Lunch – picnic
Accompaniment by professional guides
Price doesn't include
---